This is a community event. In fact, we're asking you to help promote that our Halloween event is for Estes Park families. To deliver a safe experience, we are not promoting this to guests or neighboring communities. Merchants interested in participating in the event need to let the know Chamber to
receive candy from our candy drive
have access to all the event rules, signage and sanitizing resources
get a spot reserved for your "table" or distribution point.
You don't have to be a member of the Chamber to participate (even though we'd love to have you) and you don't have to be a downtown business, but we do need you to let us know you're coming. Please just list the main contact for your company here.
The following locations are accepting candy donations for the celebration:
Safeway in Stanley Village
True Value Hardware in Stanley Village
Kind Coffee, 470 E Elkhorn Ave.
Simply Christmas, 129 W Elkhorn Ave.
Lonigans, 110 W Elkhorn Ave.
The Taffy Shop, 121 W Elkhorn Ave.
Chelitos, 145 E. Elkhorn Ave.
Phoenix Nest, 157 W Elkhorn Ave. #7
The Gold Mine, 230 W Elkhorn Ave.
Coffee On The Rocks, 510 Moraine Ave.
Wild Horse Gift Shop, 790 Moraine Ave.
Dollar General, 451 Stanley Ave at St. Vrain
Wild Horse Gift Shop, 790 Moraine Ave.
Country Market, 900 Moraine Ave.
Please send your donations to the Chamber or Simply Christmas by Noon on October 31 and the Chamber Halloween Team will distribute the candy to participating merchants setting up on Elkhorn Ave. at 4 p.m.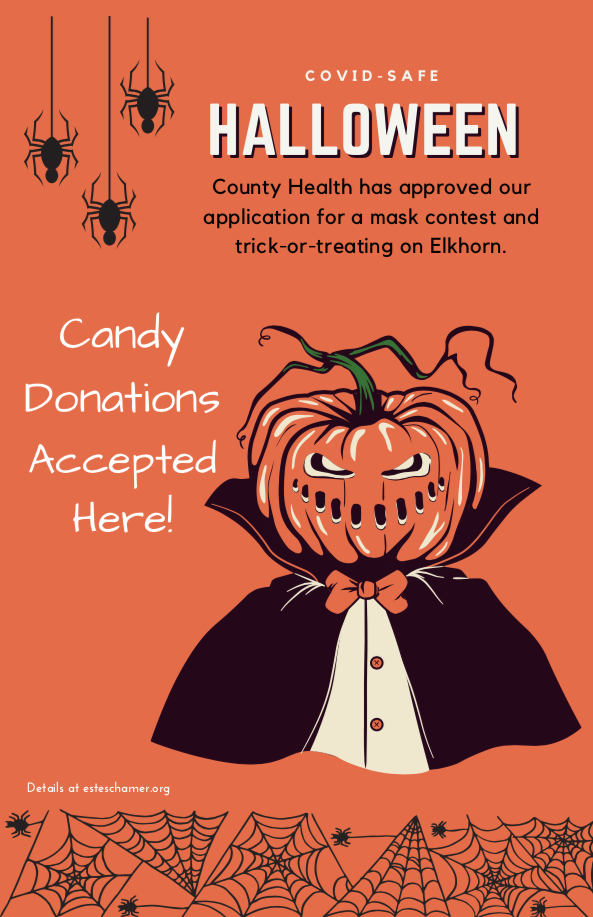 How are we making this safe? Rules of engagement:
Trick-or-Treaters will check in at four Elkhorn Ave. entry points (Riverside, Water Wheel, Moraine and Big Horn).

Trick-or-Treaters will enter at one of the four entry points to get a merchant-sponsored bag for participation. You don't have to enter any contact information to get a bag!! We do need your name if you want to enter the mask contest!
We will have a team of ghouls at every entry point to help Trick-or-Treaters register for the mask contest via QR code (with parent's help). Yes, for the contest we need your contact information. How else can we let you know who won?
At every entry point, our team of goblins will have arrows in chalk art directing Trick-or-Treaters to move to the right and follow a one-way path, indicated arrows & directional signs.
If you are setting up a station to hand out candy, we have promised Larimer health you will

Wear masks in keeping with the mask theme.
Disinfect and cover your table/display.
Make sure you keep your table six feet from the next.
Wear gloves in handling the candy, even if you create a candy chute.
Reinforce the magic rules of Halloween 2.0 - Masks, Movement and Distance

Wear your mask.
Keep moving, don't hang out in groups.
Maintain six feet distance between your party and the next.

Help us let folks know

We need to stay outside, unless you are shopping in a store. (And we'd love to have you shop!). We can't have trick-or-treating indoors.
We promised to hand out candy with gloves and not use any community bowls.
It would be great if you thank the business community by shopping with us!
The Chamber will support getting everyone on board with our variance request by

Providing mask contest and safety posters at your station and throughout the route. Available for download online.
Helping you get access to a table if you don't have one (you have to let us know by Friday, October 30),
Distributing free candy donations to all participating merchants on the 31st.
How can you help prepare?

We need chalk artists to set up chalk markers on the ground to space the merchant tables and create a one-way walking path for the kids. If you have skills, contact info@esteschamber.org.
We need lots of candy. If you want to collect candy at your place of business, we can provide you with a poster. If you want to write to a vendor and request a donation, that would be great.
Please help us spread the word in the community and watch this page for resources. We encourage our community members who might be susceptible to illness or immune challenged to stay away from public gatherings like this and keep off Elkhorn Ave. from 4 to 8 p.m.
Contact Donna Carlson at the Estes Chamber if you are interested in volunteering to help make this event a success.
Help promote the mask contest. It's really easy. We'll have at every entry point helping kids with contest entry:
Scan the QR code on a phone. (We'll need parents to help on this.)
Enter your name and contact information on the Google form and load your photo.
Pose for our Instagram team to post your entry onto our contest page.
The community will vote on Instagram. The entry with the most likes wins.
We are still looking for contest prize donations. Want to add yours? Contact info@esteschamber.org.