It's a beautiful time of year in Estes Park, Colorado -- a favorite time of year for many people who love our town. The holidays bring colorful lights, great food and enough shopping options to satisfy everyone on your Christmas list with plenty of outdoor space to explore for outdoor adventure. On that note, check out what we have planned to keep your holidays COVID-safe and bright.
It's been a tough year for our town -- after the quarantine worked hard all summer on a shoestring staff and pulled off positive sales in August and September, but not enough to make up for the deficit during the fires and evacuation in October. If there is one thing you can do to help Estes recover from the events of 2020, it's to let us help you fill your Christmas list. We have lots of fun activities for the whole family and a scavenger hunt that will fill YOUR stocking with goodies. Will you join us? Bring a friend.
Catch the Glow Festival of Lights
Festival of Lights will feature whimsical new float designs by the parade's Creative Director, local artist Michael Young, and also floats built and provided by local nonprofit organizations, stationed at the Events Complex. All floats and the Events Complex grounds will be brilliantly lighted. Spectators will be able to drive "through" the parade floats in the comfort, safety, and warmth of their own vehicles. Santa himself will greet everyone as they pass. Events Complex, 1125 Rooftop Way, 5 pm - 8 pm on each evening Friday, November 27 - Sunday, November 29 and Friday, December 4 - Sunday, December 6. Details here.
Holiday spirit around town
Looking for lights displays? This holiday lights list will lead you to lights displays put on by our friends, neighbors, and businesses. Grab a cup of hot chocolate to go and drive around town to see Yuletide Lights Tour.
Holiday Caravan Lights Tour
December 14 at 5:30 pm - Starting from the Estes Valley Public Library a firetruck will lead a caravan of lights touring through town. Seen the lights yet? Check out our tree lighting ceremony.
To make it brighter
Grab street tacos to go at La Mexicana Market on 841 Dunraven St.
Or drive through Ziggi's Coffee on the way at 519 S St Vrain Ave.
Traveling with an adult crowd? Grab a beer on the outdoor patio after at Lumpy Ridge Brewing, 531 S St Vrain Ave., or at Avant Garde Aleworks at 920 Dunraven St. (Did you know you can take food with you at Avant Garde? It's across the street from La Mexicana.)
After you drive the lights, check out our Christmas windows and scavenger hunt.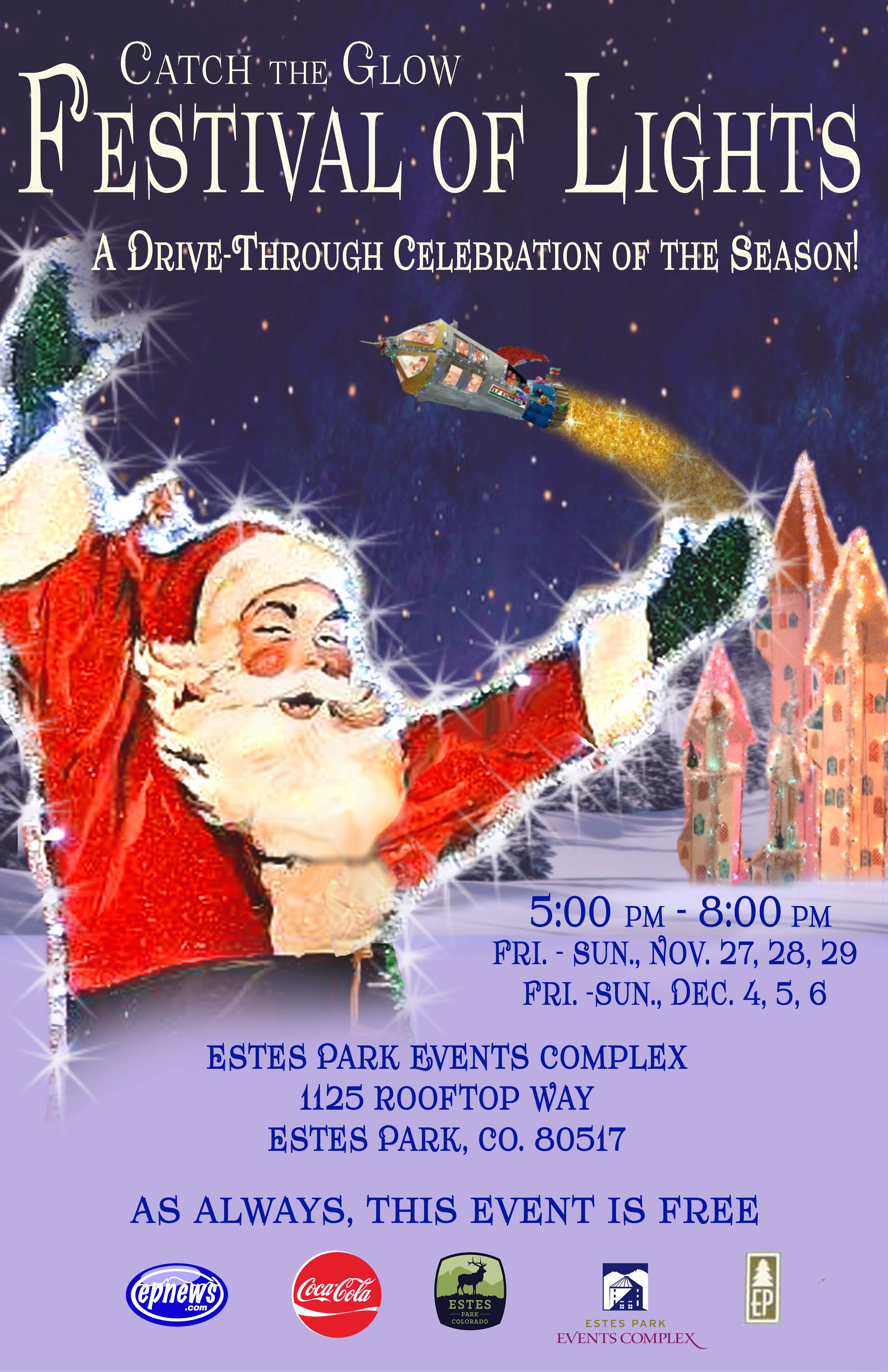 Elk of Estes Holiday Scavenger Hunt
The Chamber of Commerce is providing an end-to-end tour of Estes to showcase your shopping options and win cool prizes. Santa has a special partner in Estes, one of our local bull elk posing as Rudolph. He has some advice for how to fill every need on your holiday shopping list, and that's no bull (get it? bull elk? no bull?)!
Your mission is to hunt down these special messages, fill out your game card and email a picture of your game card to admin@esteschamber.org to be entered into the weekly raffle drawing.
The hunt begins Friday, November 27 and continues through December 20. You don't have to go inside any business to participate. (We hope you will be enticed to shop, but if COVID prevents you from going inside, we want you to join the fun!).
Raffle prize drawings will be held on November 30, December 7, December, December 14, and December 21. Prizes are available for pickup from the Estes Chamber of Commerce.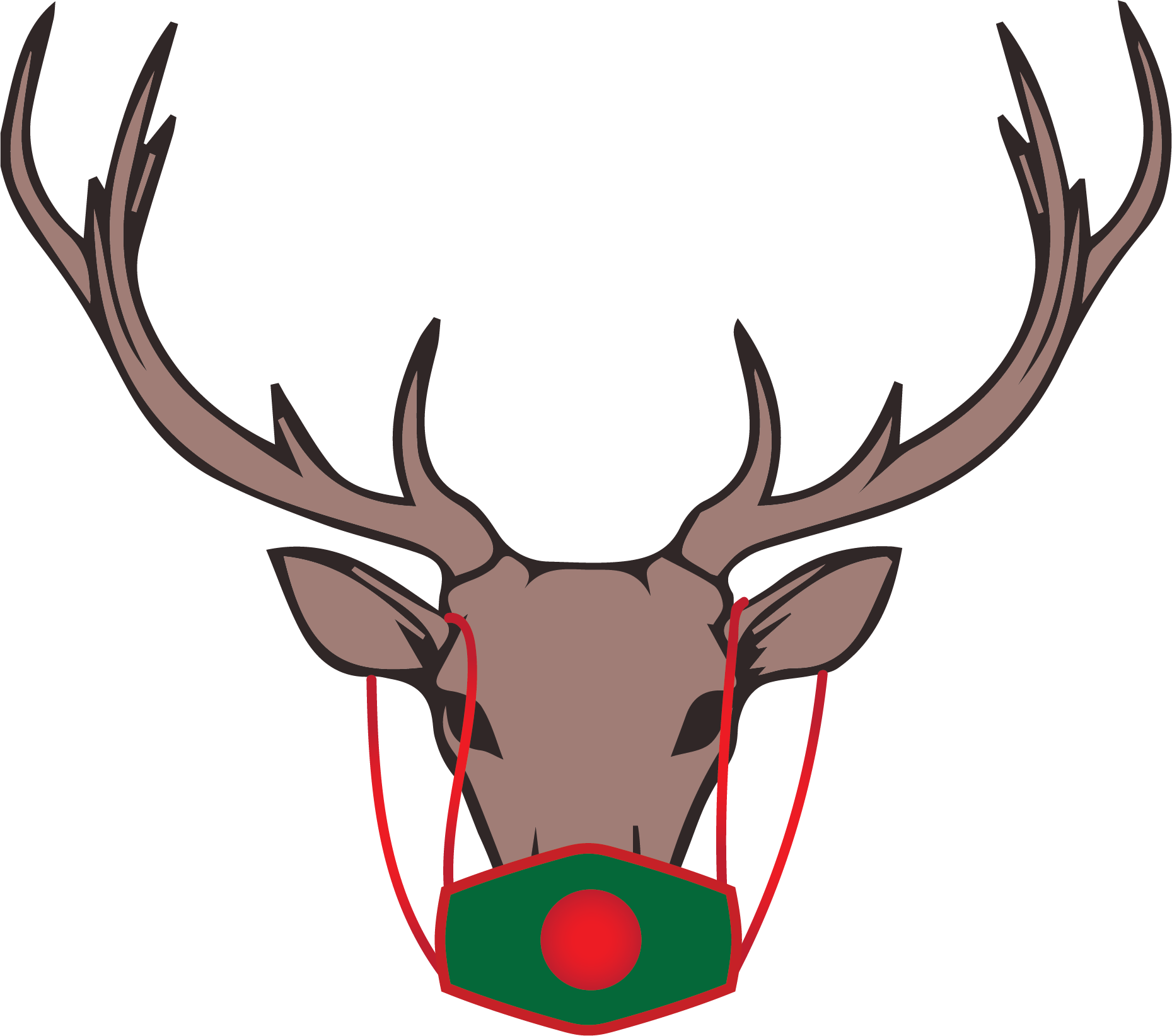 Holiday Window Decorating Contest
Holiday Window Decorating Contest: November 27 - December 31, 2020

Businesses throughout Estes Park are invited to join this years' Holiday Window Decorating Contest, sponsored by Historic West Elkhorn merchants. To get on the map, all you need to do is pony up $5 and spread some holiday cheer in your window display. If you have a window, you are qualified to enter. Judging will take place November 27 starting at 5:30 p.m. and the winning window gets to choose which charity will receive the pool of entry money.
Some of these windows will be included on the scavenger hunt game card, so you want to be on this map! Visit WestElkhorn.com for more details.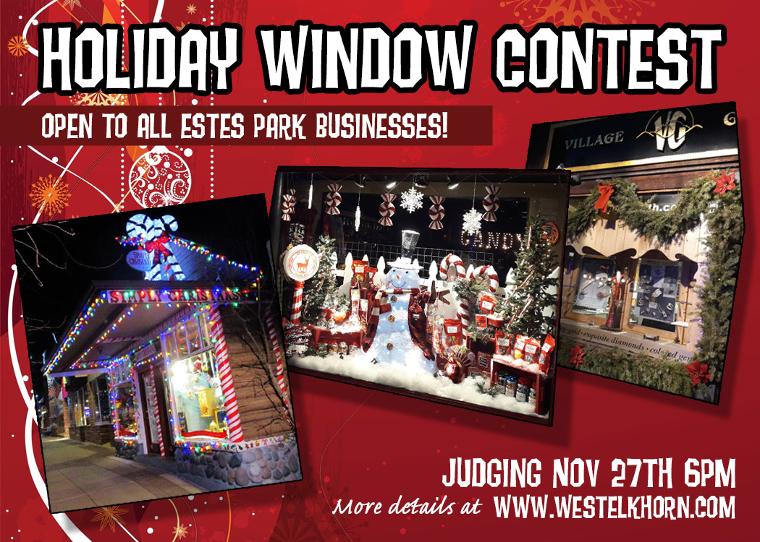 Annaka is an Estes local who decided the best way her family can support local business is to buy every item on her Christmas list in Estes Park. Her shopping journey starts on December 1. You can follow along at our Shop Estes Park Facebook page.
What ideas do you have for
that uncle who has everything?
that sister who is never pleased?
that nephew who's at a transitional age?
What holiday list dilemmas do you want Annaka to solve? We're going door to door in Chamber businesses capturing professional shopping advice on live video for everyone's benefit. Want Annaka to stop and shop your business? Schedule your Facebook Live interview at annaka@esteschamber.org.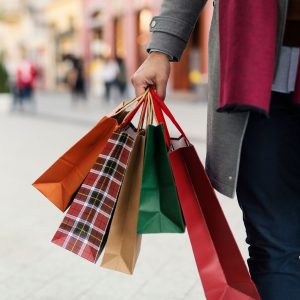 What else is happening around town?
Downtown
Aspen and Evergreen is a wonderful choice for a variety of unique local art.  From the fine to the functional, art makes for those special one of a kind gifts.  We will have a table of sale items for Black Friday Weekend.
The Highland Bard and A la Carte kitchen store are both offering 10% off anything in the store on Black Friday.
Brownfield's is holding a Rummage Sale, donating all proceeds to the Glen Haven Fire department.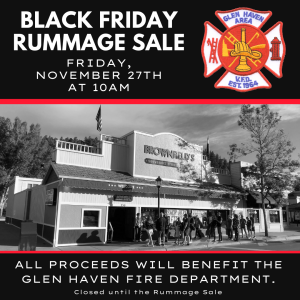 On Black Friday weekend, there are deals you can't pass up at sister stores Macdonald Book Shop and Inkwell & Brew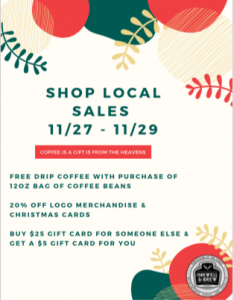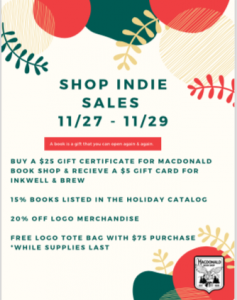 Off St. Vrain
Avant Garde Aleworks will be offering 20% off all apparel in the taproom and double punches on all to-go beer throughout the weekend! (11/27-11/29). 11/29 is also Small Brewery Sunday, so we'll be celebrating all the local-owned craft beverage makers in town.
Estes Elk Scavenger Hunt begins November 27, every weekend through December 20.
Catch the Glow Festival of Lights is glowing November 27-29 and December 4-6.
Yuletide Driving Tour of holiday homes starts December 8.
Aspen and Evergreen will have live music and cider and cookies for the first Friday Art Groove from 5-8 on December 4th.
You Need Pie, so take advantage of this gift card offer: buy a $50 gift card to give away and get a $10 gift card for yourself! Comes with a free holiday greeting card!
Santa will be visiting outside Macdonald Book Shop (masks on) December 11 and 12. The first 50 families to sign up receive a book from McDonald bookshop and a family ornament of their choice from Simply Christmas.
Art Center of Estes online auction of original art, Dec. 5-13. Preview selections or buy it now in the gallery every day Dec. 5-13 from 12-4).
The Barrel offers free adult day care all day while you shop. Drop off your husband and hit the stores. We'll take care of the rest.
Free beer samples at Estes Park Brewing, every day.
Scot's Sporting Goods is offering $30 off Echo or Maxxon Fly Fishing Combos
Hyk is donating 20% of proceeds to update equipment at Glen Haven Fire Dept.
Avant Garde Brewing will have seasonal beers on tap and a holiday gift box offering (limited edition glass, beanie, holiday ornament) available in the taproom.
Rustic Mountain Charm is filled full with new holiday decorating and gift items! Also offering free hot cider.
From now until 12/24, special order a book from Macdonald Book Shop that we don't have in stock & when you come back to pick up your book, you'll get a "delayed gratification" book mark for a free 12 oz beverage of your choice from Inkwell & Brew.
STUFFED is a magical shop offering over 1,100 styles of STUFFED animals including Steiff, Hansa, and Douglas! Find 50+ hand puppets, "WARMIES" (STUFFED animals ready for the microwave), and a unique line of STUFFED dog toys! Stop by for a free candy cane!
Create a winter scene that reminds you of Colorado. Inspired Artisan Market is offering a Make Your Own Snow Globe art experience for $15 using shrink film and modeling clay. You can order online or come to the studio where the instructors will guide you through the process of creating a memory for your family.