The Chamber is the champion for business, dedicated to promoting a strong business climate in the Estes Valley, making Estes a great place to live, work and play.  We are responsible to members first – run by members and funded by members, in business for your business.  With a dedicated paid staff, we are here for YOU! For benefit and dues information check out this page.
When the Estes Chamber was founded in May 2019, Estes Park had been without a Chamber of Commerce for 15 years. Our Board of Directors laid a solid foundation in 2019 and hired our first full time Executive Director in March 2020. In spite of the COVID-19 pandemic, we doubled our membership base over the next year because
Business needs to connect with business and we've established the most comprehensive business directory in the Estes Valley, creating business referrals and advertising opportunities for members.
Members need to connect with members, to share best practices and workforce strategies.
The Estes business community needs a voice to advocate at local, county, state, and federal levels.
The community realizes the only way to create a resilient economy is to keep the workforce agile through education programs, speakers and leadership development resources.
Our business community needs someone who will listen. That's what we're here for. If we don't have the answer, it's our job to find out who does.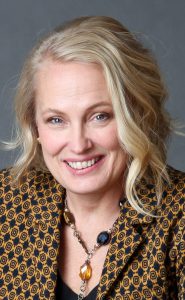 Donna Carlson joined the Chamber in March of 2020, right at the beginning of the COVID crisis. After 25 years of high-tech PR experience, Donna moved into the non-profit world and shifted her focus onto leadership development. After five years at Compassion International, she moved to The Center for Creative Leadership and then formed her own consultancy providing women's leadership development with 360 Life Strategies.
She was focused on small business strategies when the role with the Estes Chamber materialized. "This is the perfect place to apply the combination of PR, marketing, networking and business development expertise," Donna says. "I also get to help a town I've loved for 25 years recover from a paradigm-changing global pandemic. It's an honor to be here."
Donna has been traveling to Estes Park as a visitor for 25 years. Her husband Jeff helps seniors save money on Medicare and her three daughters -- 23, 19 and 17 -- are big supporters of the ice cream business in town.
What have we done this year?